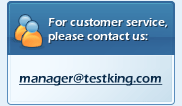 "We are very happy that you suggested we switch to the Licensor program - we've saved over $2,000 this month alone by buying the extended licenses. We will potentially have our entire metro IT staff trained this year well under our training budget. Thank you for the excellent products and usage solutions. "Training at our own pace..." never sounded so affordable. :)"

- Greg Dunn
(Western Division Manager, WYCO)

"The perfect solution to our training problem. The discount was unexpected, but the quality was not. you never cease to impress us. Thank you."

- Don Post
(MCP, MCSE, MCSA, MBA)

"We switched from a Reseller account to Test King Licensing because we weren't really running a store or marketing services of any kind. The licensing program just works perfectly with the volume and duration discounts. We're training twelve technicians in five states thanks to your new program. You've reduced our training budget and training time exponentially. I wish you worked with Mother inlaws."

- Robert Prescott
(HR Administrator)



What is a site license?
A Testking Site License is access to one Testking Product by one individual user. Site licenses are managed from one Testking Licensor account, where additional licenses can be purchased and assigned to different users, or added to existing users.

Site Licenses are billed per license, however you can obtain steep discounts by purchasing multiple Testking Site Licenses (bulk) and also by extending the License time from the default three months to six months or a year. Combine these two discounting options for even higher discounts.

Purchasing multiple Testking Site Licenses at one time is easy and a great way to save money. Licenses can be purchased in advance and activated as you need them. Your expiration date for each Site License is based on the activation date, not the date of purchase.

The Testking Site License is perfect for companies with a growing IT Department or one that requires on-site training on a flexible schedule. Testking products are designed for use at the pace of the user, not based on a classroom and exam schedule. Businesses save both time and money by mixing and matching exams from different certifications and even vendors.

What are the benefits of multi-user licenses?
Participating in the Testking Site Licensing program permits you to take full control over the Testking products and services for your personnel in training.
Buy Testking Licenses in bulk and/or for extended licensing terms for deep discounts. Select from 3, 6 and 12-month licenses. Activate the licenses when you need them, allowing you to maximize your savings and purchase Testking licenses in bulk!
You determine what products and services are available to each user. Assign one or all of the exam preparation tools to any user.
You set the duration of the Testking product life. Activate products for a month up to a year at a time, allowing your users to train at their pace, or under a deadline set by your company.
Track your users' progress and scores from practice exams. With full reporting on questions and answers, we include stats on difficult areas of exams, scores and pass fail rates, increase or decrease in proficiency, frequency of activity.
Receive discounts and bonus licenses based on volume and need. We can create custom programs for any industry and for any company structure. Volume or Bulk discounts begin with the purchase of five or more Testking Site Licenses of a single product at a single time. Discounts based on extending Licensing Duration begin at 25% discount for a six month License, and 50% for the twelve month License.
Example #1: lets say that you need five Microsoft 70-210 Questions and Answers Site Licenses. Lets say that 3-months license of each product costs $100.00. You decide to buy them all at once, and activate them, as you need them. You also decide to purchase the six month edition for extra lead time before exams begin.

Regular Site Licensing Pricing based on one license purchased as needed:
5 70-210 @ 100.00 + subscription extension = $1000.00
Total Non-Discount Pricing = $1000.00

Discounts:
Bulk pricing discount: 5 70-210 licenses (25% of $1000.00) = $250.00
Subtotal = $1000.00 - $250.00 = $750.00
Extended duration discount: 6 mo. Extension (25% of $750.00) = $187.50
Total Discount: $437.50
Total Discount Pricing = $562.50

Example #2: lets say that you need eleven Cisco 640-301 Q & A Site Licenses. Lets say that 3-months license of each product costs $100.00. You decide to buy them all at once, and activate them, as you need them. You also decide to purchase the twelve month edition for extra lead time before exams begin.

Regular Site Licensing Pricing based on one license purchased as needed:
11 640-301 @100.00 + subscription extension = $4400.00
Total Non-Discount Pricing = $4400.00

Discounts:
Bulk pricing discount: 11 640-301 licenses (30% of $4400.00) = $1320.00
Subtotal = $4400.00 - $1320.00 = $3080.00
Extended duration discount: 12 mo. Extension (50% of $3080.00) = $1540.00
Total Discount: $2860.00
Total Discount Pricing = $1540.00

What are the multi-user licensing options?
Select from any of the Testking products or services available. All products can be licensed and can be purchased for three, six and twelve month terms.

Pay for your licenses with a direct payment, or from funds in your Testking Licensing account. The Testking Licensing Program accepts all major credit cards, PayPal, check and bank wires.

Purchase your licenses at any time and activate them when you need them. Don't worry about your unused exams and materials expiring. The Testking Licensing Terms begin upon activation, not at the time of purchase.

Can programs be tailored to my specific needs?
Of course, in fact customizing this program and tailoring is what Testking Site Licensing is all about. You are in control of the number of products, users, and duration of the training tools that you select.

Testking products and services are frequently updated, and with the Testking Site Licensing program, you will be kept up to date with the latest Testking training materials and tools for passing exams and becoming certified.

Payment solutions are also available to meet your business needs. Make a direct payment at the time of each license purchase (with a credit card or PayPal), or operate from your Testking Licensing account balance. Funding your Testking Licensing account in advance helps manage training budgets and consolidates records for accounting.

Consult with one of our Testking Site Licensing professionals and find out what benefits and features will work best with your situation and training budget.

Is there an academic discount?
The Testking Site License program has an Academic Discount, yes. Please contact manager@testking.com to obtain the discount and setup your account. The Academic Discount is not automatic, and you may be asked to provide verification.

Can I re-use products once I've purchased them?
Products that you purchase have been designed for use by an individual user. Each user will require a unique product, which may be renewed if it expires.

The Testking Site Licensing control panel keeps statistics and reports on each user and the progress that he/she makes while using the products and services that you assign them. The results are invalid if multiple users are accessing the same licensed product.

Can I transfer licenses to another computer?
Licenses, like retail Testking products, can be moved or added to one additional computer. Simply download the product onto the new computer and run the executable for quick and easy installation. Once installed, you may request a new authorization string from the Testking web site.

If you have encountered technical difficulties, or need to reinstall the applications again due to a computer issue, you can contact support@testking.com and request a new authorization code.

How are licensing fees calculated?
Testking Licensing fees are calculated based on the number of licenses that are purchased. Discounts on licenses are generated when you buy in bulk, or when you select an extended license term, or both.

Volume discounts begin at five licenses or more, purchased simultaneously. Default licensing terms begin at three months. Extending these terms to six months earns you an additional 25% discount, and extending to twelve months generates a 50% discount. (For example: one license costs $100.00 for a three-month term. An extension to six months would equal $150.00, and a one-year duration would equal $200.00.)

Purchasing Testking product licenses in advance is a great way to earn a volume discount. Licenses can be activated at any time you desire, and will be the most current version of that product available.

If you are an academic institution, contact us for additional discounts and payment structures that you may qualify for.

Who qualifies for a site license?
While we would love for everyone to have the freedom of choice in their training materials, product duration and user reporting, Testking is launching these features just for Licensors and developed specifically for companies and small businesses that need flexible training solutions while keeping track of their training budgets and the ROI.

If the Testking Site Licensing program is not right for you, we have two other solutions that may deliver something that suits you better. The Testking Reseller and Testking Affiliate programs are geared towards the individual or company looking to turn a profit from Testking merchandise - however, both can be used to save on Technical Training Budgets.

Contact one of our Testking Site License specialists to find out which of these options best suits your needs.

Are there any benefits beyond savings?
With the Testking Site Licensing program you will be able to create as many users and products that you need to train your staff for their certification exams. Its this carte blanche access to all of our products that sets us aside from all of our competition.

At Testking, not only are out products frequently updated, but so is the way we do business and our web site features. If you would like to see a product changed, a feature added, or would like to submit a testimonial; simply contact us at support@testking.com and we'll respond to your idea ASAP.

What different types of payment methods are available?
There are four different methods of payment available. The two most common methods of payment are by credit card and PayPal balance. Both of these methods instantly add the funds you need to your account. Two other alternatives are check and bank wire. Both of these secondary methods remain reliable funding sources, though the actual account funding will take an extra 2-3 days depending on the bank to bank communication.

What different product types are available for licensing?
You have complete access to all of the Testking products and services with the Testking Site Licensing program.

Questions & Answers are the backbone of our product line. Our industry-leading certification practice tests cover the same topics as the actual exams. Working with our Q & A products is just like taking the actual tests… except we also give you the correct answers. More importantly, we also give you detailed explanations to ensure you fully understand how and why the answers are correct.
Questions cover the same topics as the real tests
Correct answers, verified by industry experts
Detailed explanations (when available) to ensure full understanding
Just like the real tests: drag and drop, multiple choice questions
Updated regularly, always current
Backed by our GUARANTEE
Our Questions & Answers are prepared by industry leaders, some of the best technical experts in their fields. Accuracy is guaranteed. Take our practice tests, and go into your next certification exam confident and prepared.

Prepared by industry experts, our state of the art Study Guides ensure you understand all concepts necessary for taking a certification exam. Each study guide is accompanied by Labs and practical exercises to prepare you not just for your exam, but for the challenges of the IT industry.
Written in plain English, for non-certified professionals
Prepared in accordance with vendor-specified guidelines
Contain Labs and practical exercises, giving hands-on experience
Equips you to handle common IT problems
Used alone or in combination with our other leading products, our Study Guides give you an unequaled combination of theory and practical knowledge. Pass your next IT certification exam, guaranteed!

Complete Preparation Labs are perfect for those seeking a comprehensive, affordable exam-preparation package. Specializing in CIW, Cisco and Microsoft certifications, these packages ensure a successful IT career.
Virtual boot camp on your PC
Test your knowledge
Build your troubleshooting skills
Learn about the hardware and software you'll face every day
Available online in seconds
Our Complete Preparation Labs will to solidify your existing knowledge, and take you step-by-step through everything you need to know. Complete with introductions, lab scenarios and tutorials, these labs are the competitive advantage you need to succeed in the IT world.

In MP3 format, Test King's Audio Exams can be played on virtually any media player. Learning is easy and painless. Prepare while commuting to work!
MP3 format: use on iPod, thumbdrive or any Media Player
High and Low bandwidth options
Study guide format for easy understanding
Perfect complement to Q&A, Study Guide or Realistic Labs
Between 25 and 90 minutes (depending on exam)
Use them anywhere
Great for multitasking and commuting
While we don't recommend Audio Exams alone, they are the perfect companion to our Study Guides and Questions & Answers.

Can I track the progress of my employees/students?
Yes, you most certainly can! However the Questions and Answers Testking product requires an internet connection to send the practice test results back to the Testking Site Licensing service.

What different time durations are available for licensing?
Default time allowanced begin at 3 months, and increase to 6 months, and finally to one year (per product, per user). If you need time allowances that are not compatible please contact us at manager@testking.com and we will try to accommodate your own schedules.

Do I get any benefit for referring other licensing clients?
Yes. Testking does reward referrals of new Site Licensors. If you would like to refer a Testking Site Licensor to us, please email manager@testking.com to discuss your account and the new site licensor you would like to have join.

Are there any demos available for the products?
Testking Site Licensing products are the same products that you will find available for retail purchase on the Testking web site. The only difference is the account set up and product activity duration.

Download any or all of the free downloads from the Testking Demo page: http://www.testking.com/Testing-Engine.htm. If you would like a sample or demo product of one not listed, please contact us at support@testking.com and let us know what demo you would like - and we will send it to you ASAP.

Do I get more discounts to purchasing several licenses at once?
Testking does provide a volume discount for Testking Site Licensing products. If you feel that you are creating a larger-than-average stream of clients/users... by all means contact us immediately and we will determine your usage and volume of products being assigned.

Once we set your pricing, it is static and can only be modified by Testking specialists who can modify your discount and set new account limits.

I have signed up but I have some further questions who do I contact regarding licensing help?
First of all, Welcome Aboard! If you are having difficulties, first read the contents of the Testking Site Licensing FAQ. If you continue to have questions that are unanswered or just need some personal guidance, please fill out the Contact Us form or email us at support@testking.com and we will reply to you ASAP.

When a Testking representative contacts you back, you may need to supply him/her with the username or email address you used creating the Testking Site Licensing account - please have that information available when you contact us. A Testking Representative will never ask you for your password.